Tree Service Express Offers Crane Services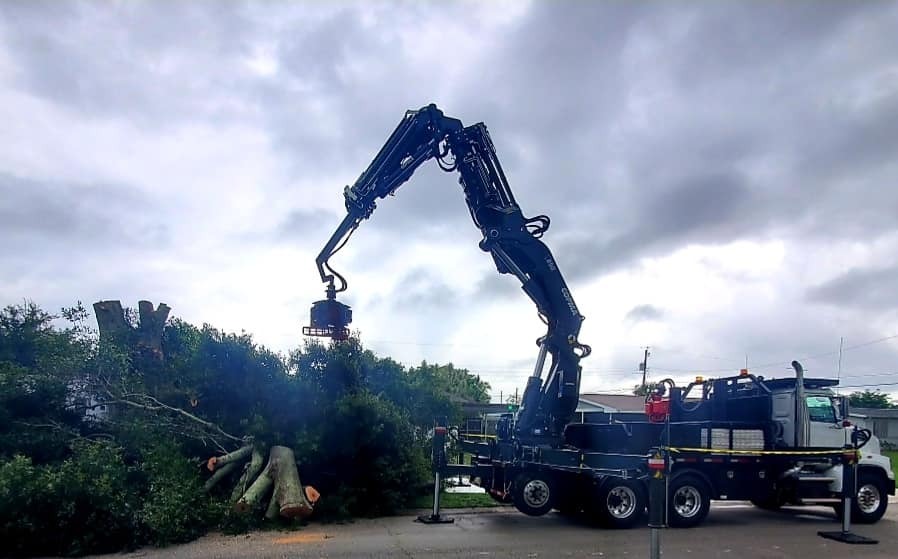 The residents of Brevard County, Florida know that tree care is important, especially before and after hurricane season or any severe weather event. If you've never hired a tree service company before or are more familiar working with a landscaping company or simply a "tree guy" to remedy tree issues, you may think the only tools necessary are pruners, chainsaws and ladders.
On the contrary, oftentimes other pieces of equipment are necessary in addition to those mentioned above. Tree Service Express offers a full line-up of heavy equipment that empowers us to do the residential and commercial tree services jobs we encounter more efficiently, safely and effectively.
One piece of equipment we'd like to shine the spotlight on in this article is our crane, also known as "Removatron". Removatron is our custom-built, 65-ton remote control grapple saw, robotic tree removal crane and is the largest in the Central Florida East Coast Area. A tree crane is not the same as a stationary crane used for construction; instead, tree cranes are mounted onto large trucks. Safety and operational regulations also vary slightly between our crane and those used in other industries.
On the day of your scheduled tree service/removal that requires a crane, our knowledgeable team arrives, and the first step will be to stabilize the crane. Once the crane is stabilized and the team has a detailed plan in place with each member performing a designated role, the removal can begin. You'd be surprised just how quickly and well executed a crane and professional team make the tree removal process go.
Proper time to plan is necessary, and a professional arborist and tree service team takes many factors into consideration when planning a tree removal. Especially since cranes are most often used in dangerous/hazardous and large tree removals.
Here are some examples of tree removal that can require our crane services, the Removatron:
A tree that is severely decayed or diseased
A fallen tree
A tree that is weak and is leaning dangerously close to a residential or commercial building
A tree with large dead limbs
A tree that is in close proximity with power lines
A tree that is blocked by a gate or wall, limited or no ground access point
A hard-to-reach tree for any reason
Benefits of Utilizing a Crane During a Tree Removal
Some may wonder if the use of a crane is necessary, even in a dangerous situation. At Tree Service Express the answer is yes, especially since one of the main benefits is increased safety for not only our team but your property and home as well.
Safest Option – Utilizing a crane ensures debris will be gently placed on the ground to be disposed of, as opposed to falling and risking damage.
Cost-Effective – Crane removal ensures the tree will be removed correctly with no damage to surrounding areas. Other traditional tree removal methods have the potential to damage surrounding buildings. A cost you don't want, as unprofessional companies or tree guys may not have adequate insurance needed.
Efficient – Although it may seem like planning and setting up for crane use takes longer, once the removal process is started it moves along quickly. Less time is spent on your property and less foot traffic equals less for you to worry about and resume activities you enjoy.
If you suspect you need a tree removed from your Brevard County, Florida property, whether it be a large tree or a hazardous tree, our team is here to help. Contact us today with the details and we'll get your service scheduled.